The curtain comes down on an incredible Premier League season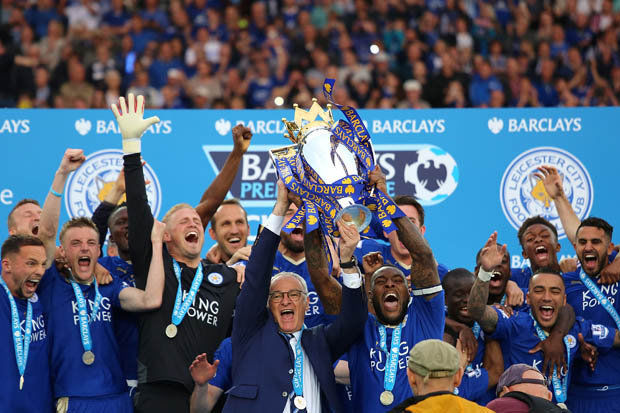 Who would have imagined that 5000/1 outsiders Leicester City would be crowned the 2015-16 Premier League champions last August when the season began. But it's happened! Having escaped relegation with a near miraculous run of seven wins from their final nine games the previous term, Nigel Pearson's side pulled a rabbit from a hat and hauled themselves out of trouble to finish an impresive 14th and clear of danger when the season ended.
Of course, that wasn't enough for the Thai owners of the Foxes and Pearson was soon gone after some off field comments left his position as manager untenable. In stepped Claudio Ranieri, the Tinkerman off the back of a humiliating international managerial run in charge of Greece, who had the indignity of being beaten by the lowly Faroe Islands during international qualification. Yet here he was, in charge of Leicester City, with most pundits wondering why this appointment was made, how it would pan out and of course, when it would all fail. How wrong they were! The now famous on-screen bet by Match of the Day presenter Gary Lineker means due to the Foxes Premier League win, he'll have to present the opening BBC show in his underwear come the new football season in August. He's not the only one looking foolish we might add.
What this amazing story has done is re-energised football in a new way. No longer do the smaller clubs automatically feel that only the big spenders can win. No longer only do the talented, world class players succeed at the highest level. Their meteoric triumph has given hope and dreams to every player, fan and football team around the world and belief that anything is possible with the right approach and organisation.
With Sunderland's emphatic comeback over Chelsea last week and last nights demolition job of Everton, this can only be highlighted further as they escaped relegation with some incredible recent form, sending Norwich and bitter rival Newcastle United down to The Championship with Aston Villa.
After yesterday, the final chapters of this year's top flight football stories were finally told but one can't help wonder how many years into the future we'll still be talking about this season. Perhaps Leicester can inspire a smaller nation to win this year's EURO 2016 tournament in Paris?
Get set for EURO 2016 in France
We're now only four weeks away from this summer's major international footballing tournament. With an increase in teams this year from 16 to 24, the tournament will certainly have a bigger feel to it and the home nation fans certainly have a lot to look forward to.
England, Wales, Northern Ireland and the Republic of Ireland are all going to be at this year's tournament, so the feel of this years EURO's will almost be like that of a World Cup. With the matches being played only across the channel, many fans from the UK will be tempted to make the trip across to France to see the games live.
But for the rest of us far flung expats, we'll happily settle for watching all the live games on BBC and ITV as armchair fans, with the remote in hand and no doubt a cold one in the other. The full match schedule is available to view in a previous blog post where you can see the full list of matches being aired on both the BBC and ITV networks next month. Make sure you're ready in time to watch all the games on British TV. We have a whole range of different set-top boxes that make getting UK TV anywhere possible!
All eyes on Paris for the tennis too!
Don't forget that before the football kicks off, next week sees the start of the French Open tennis at Roland Garros. Like recent years, ITV will be covering the tournament over the two weeks to see if World No. 1 Novak Djokovic can finally get his hands on the last remaining slam to complete his personal collection.
Fans of Rafa, Roger and perhaps even Andy Murray may have a few things to say about that but recent form indicates that the Serb is in scintillating form. We'll have to wait and see when the tournament starts next Monday 16th May on ITV HD.
It's going to be an amazing summer of sport on UK TV!