How to watch Sky TV in Belgium, English Sky TV Europe available anywhere…
Sky TV abroad in "1080p HD" viewing. View Sky sports and Sky Cinema in Belgium.
The most popular products in Belgium are ;
+44 (0) 2032 838 000 or email info@skycards.eu / skycardseu@gmail.com
Enjoy our very own Sky TV Europe services. The subscription service through a Sky + HD box, Roku Tv or Sky Go for Belgium. Furthermore Sky Q is now available in UHD. Premium English language TV viewing packages are available through our Sky viewing cards anywhere in Belgium. Used with a Sky + HD box Drx890 you can have full access to record and live pause through Sky and Freesat channels in any area of Belgium.
There are over 400 premium channels available, furthermore many are available in HD.
As Europe's leading provider of Sky Cards and premium Sky subscription packages to customers all across Europe, we are delighted to offer sky cards and satellite receiving equipment for Belgium. Skycards.eu provide English TV to customers living and working in the Benelux region. So if it is Sky TV or Now TV in Belgium you are after we have this covered. BBC, ITV , Sky Sports, Sky Cinema and more are covered anywhere in Belgium.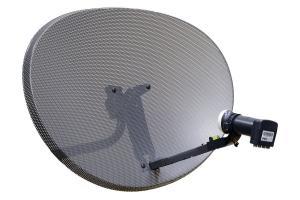 What size dish do I need?
Television through a Sky box and a Sky UK viewing card is widely available in Belgium even for the Sky HD pack.
In Belgium, you only need a Zone 2 Sky dish (as shown) to have a clear signal from the Astra 28.2E satellite beams, although we usually recommend you use a dish at least 1 metre for good reception quality.  Sky TV picture quality in Europe greatly varies depending on the signal strength in your region which may be affected by local terrain, however a good local satellite installer will have no trouble setting up the dish to receive the signals.. English telly in Belgium is only a click away, furthermore you can now view the incredible service in HD or UHD with SKy Q.. Visit our order page to subscribe to British TV in Belgium.
To be sure of the correct size dish required where you live, please contact your local satellite dish installer for confirmation. You could be watching Sky in Belgium within a couple of days.
Additional channels available in Belgium include BT Sports HD, Racing UK, Zee tv, Sky Asia, Premier sports and American sports broadcaster ESPN HD. Skycards.eu offer the very best broadcasting through satellite or internet  in Belgium.  So if it's over a thousand Movies or English Premier league football for Belgium we have it covered.
What parts of Belgium can I receive Sky TV signals?
+44 (0) 2032 838 000 or email info@skycards.eu / skycardseu@gmail.com
The satellite signal is very strong throughout Belgium, therefore the service is available in the following towns and cities.
Aalst, Antwerp, Arlon, Ath, Bastogne, Bruges, Brussels, Charleroi, Dendermonde, Diksmuide, Dinant, Eeklo, Ghent, Halle-Vilvoorde, Hasselt, additionally most areas of Belgium.