Sky TV in France. How do I watch Sky TV in France?
Would you like to view English Free View TV in France additionally, Sky TV the UK's Premier TV Subscription service?
+44 (0) 2032 838 000 or email info@skycards.eu / skycardseu@gmail.com
Watch Sky TV in France through a satellite dish furthermore, this is now available through the internet.
Choose Skycards.eu for the very best in English television wherever you are. Here at Skycards.eu we have the best British TV in France solution for you, whether it's Sky TV Abroad or alternatively, Now TV in France we have the solution offering Sky sports, BBC, ITV and Sky Cinema all available throughout France.
Are you looking for a Sky TV abroad subscription in France however, you don't know where to start?
Sky UK TV is now available in France however, you don't need a UK address with our hosting service.
Sky France is now available through Skycards.eu additionally, we offer the best subscription service giving a variety of channels in HD through a Sky+ HD drx890.
View TV in France.
Sky Subscribers in France have always been able to access a great selection of live shows more over, now they can view On Demand and catchup with a VPN router for France.
You can have access to ITV Player, 4 On Demand, 5 Player, BBC iPlayer, additionally, there are many other facilities meaning you never miss an episode of your favourite channels .
Have you missed the following facilities in France, Catch up TV, On demand, Top Picks, Sky Store, Sky box office, thousands of movies and box sets however don't know how to access them?  Skycards.eu offers internet TV services through a VPN router additionally, through Sky Go Abroad and IPTV freeview box for France.
Sky are the leading tv broadcaster in The UK furthermore, their channel program content is now the largest in Europe.
Would you like English channels in France?
The Astra satellite covers all of France and the satellite dish size needed ranges from 60 cm in the North to 120 cm in the South however, this can vary in certain regions.
English TV in France for expats with Sky Tv and Now TV, The very best in British TV.
Sky satellite systems are great for offering British TV abroad however, Skycards.eu have a selection of internet based products for customers where a satellite dish is not feasible.
Now TV using a VPN.
What is a VPN? Our own Skycards.eu VPN service means that you can view all the channels, apps and facilities through the internet at  home, additionally now on the go with our mobile VPN service.
With the VPN router you can view BBc iPlayer, Netflix, ITV player furthermore, Sky's own IPTV solution Now TV. Skycards.eu routers are powered by our own VPN service.
The VPN or Virtual proxy Network unblocks all content which would usually be geo locked and offers a safe, secure solution to viewing UK and Sky TV, furthermore it's fully legal.
Sky cards offers a great range of iPTV options for instance, Now TV, Roku and Apple TV allows you to subscribe to Sky. Moreover, you can view Live Sky Sports in France,  UK documentary channels, Movies / Sky Cinema in HD , and many more facilities.. Would you like the English Football games shown live in France for example, the Premier League and Champions League?
Our Sky HD box is the cheapest on the market furthermore, it's Sky's best selling box. Why not add a Sky viewing card therefore, allowing you to receive British TV in France?
If you would like the package of your choice simply contact us however, we have a registration page where you can securely register your channels. Packages are available for Sky Sports fans in France alternatively, if you like movies these are available before most other broadcasters.
How do I get Sky TV in France?
Contact our team today by telephone, email or additionally, we now have a web chat facility.  If you are an Ex Pat, holiday maker or work in France we can help furthermore , we can now offer short term viewing products.
As Europe's leading provider of Sky Cards and premium Sky subscription packages to customers all across Europe, we are delighted to offer sky cards and satellite receiving equipment throughout France. We specialise in providing English TV to customers living and working throughout every region of France moreover, our network of installers will ensure you never have any difficulty with reception.
All standard sky channels are available the same as the UK additionally, stand alone channels are available in France including Sky Asia, Zee TV, Racing UK, BT Sports HD and American US sports through ESPN HD. Take a look at our channels package page HERE.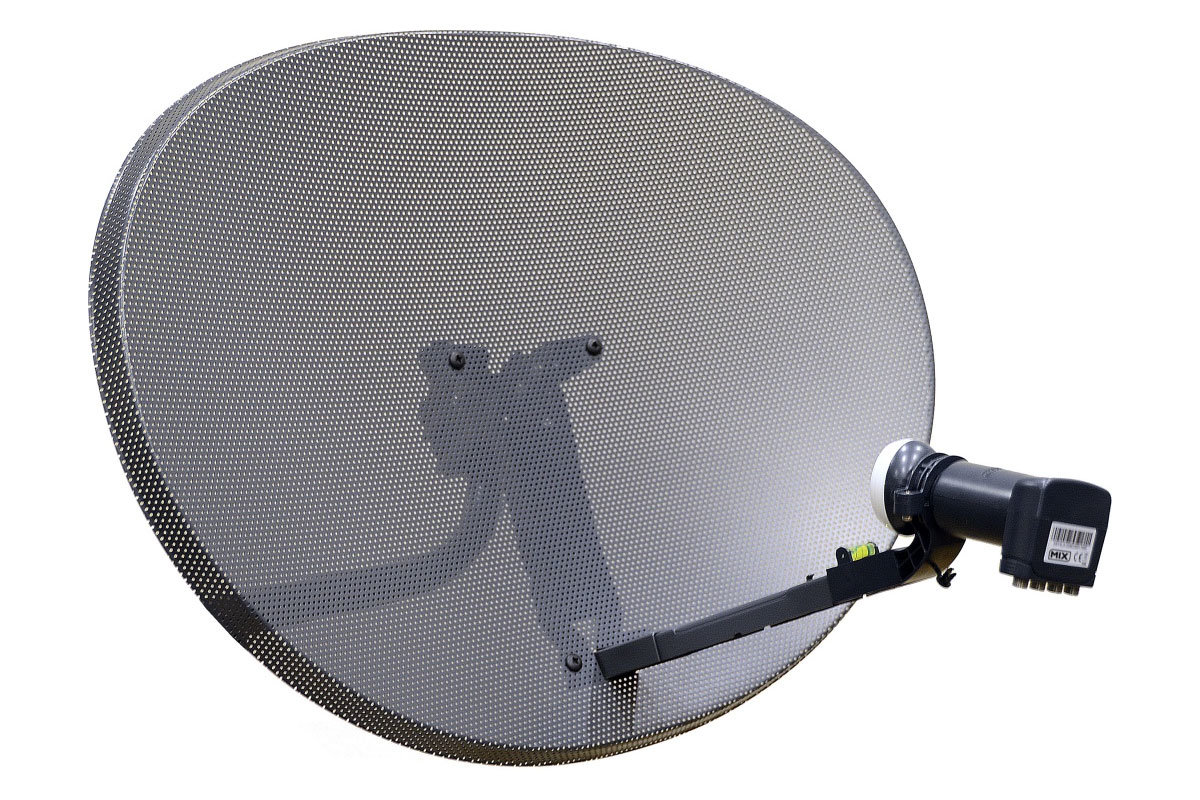 What size dish do I need?
In France, you only require a relatively small dish for instance, a Zone 2 (as shown) to receive a clear signal. This signal is from the Astra 28.2E Pan-Europe satellite beams, although we usually recommend you use a dish at least 1.2 metres in diameter for optimum reception quality. Sky TV picture quality in Europe greatly varies depending on the signal strength in your region however, this may also be affected by local terrain.
To be sure of the correct size dish required where you live, please contact your local satellite dish installer for confirmation alternatively, contact us and we may be able to recommend a local Sky Satellite installer in France.
What parts of France can receive Sky TV signals?
We have previously supplied sky digiboxes and sky viewing cards to customers all across France, without any problems receiving all required channels, in the following cities alternatively, contact us and we will be able to provide further information:
Aix-en-Provence
Amiens
Angers
Argenteuil
Asnières-sur-Seine
Aulnay-sous-Bois
Avignon
Besançon
Bordeaux
Boulogne-Billancourt
Brest
Caen
Calais
Clermont-Ferrand
Colombes
Créteil
Dijon
Fort-de-France
Grenoble