How to watch Sky TV the UK's Premier TV Service in France.
English telly for France and now available anywhere in the World.
Choose Sky TV in France for the very best in English television wherever you are. Here at Skycards.eu we have the British Tv in France solution for you, whether it's Sky TV Abroad or Now TV in France we have the solution offering Sky sports, BBC, ITV and Sky Cinema all available throughout France.

Looking for a Sky abroad subscription in France? Sky UK TV now available in France, customers in the these towns, cities and regions are receiving Sky UK TV; Paris, Lyon, Marseille, Lyon, Nice, Toulouse, Carcasonne, Bordeaux, Toulon, Normandy, Brittany, Cote D'Azur, French Riviera plus many more ares.
Sky France is now available through Skycards.eu, the best subscription service giving a variety of channels in HD through a Sky+ HD drx890. English Sky TV Europe.
View TV in France.
Sky Subscribers in France access On Demand catchup with a VPN router for France. You can have access to ITV Player, 4 On Demand, 5 Player ,BBC iPlayer, plus many other facilities meaning you never miss an episode of your favourite channels . Have you missed the following facilities in France, Catch up TV, On demand, Top Picks, Sky Store, Sky box office, thousands of movies and box sets? This is now available with our TP wireless router.  Skycards.eu also offer internet TV services Sky Go Abroad and IPTV freeview box for France through a Mag 250.
Sky UK are the leading tv broadcaster in Europe.
Would you like English Speaking channels in France? Skycards.eu have the solution. The Astra satellite covers all of France and the satellite dish size needed ranges from 60 cm in the North to 120 cm in the South. English telly in France for expats with Sky Tv and Now TV, The very best in British TV.
We have a selection of internet based products for customers where a satellite dish is not feasible.
Now TV using a VPN.
What is a VPN ? Our own Skycards.eu VPN service means that you can view all the channels, apps and facilities through the internet. With the VPN router you can view BBc iPlayer, Netflix, ITV player and Now TV. The VPN or Virtual proxy Network unblocks all content which would usually be geo locked and offers a safe, secure, legal solution to viewing UK and Sky TV.
Now TV HD box allows you to subscribe to Sky , including Live Sky Sports in France,  UK documentary channels, Movies / Sky Cinema in HD , and many more facilities.. Would you like the English premier league games shown live in France or perhaps a massive selection of programs and Sky Movies, we have the solution for you.
Our Sky HD box is the cheapest on the market and why not add a Sky viewing card subscription service for British TV in France. We can activate the Sky viewing package of your choice. Packages include Sky Sports France, the latest movies before most other broadcasters.
If you want to know How do I get Sky TV in France? Skycards.eu are Sky TV's largest supplier in Europe.  If you are an Ex Pat, holiday maker or simply work in France we can help.
As Europe's leading provider of Sky Cards and premium Sky subscription packages to customers all across Europe, we are delighted to offer sky cards and satellite receiving equipment throughout France. We specialise in providing English TV to customers living and working throughout every region of France.
Additional channels available in France include Sky Asia, Zee TV, Racing UK, BT Sports HD and American US sports through Espn HD.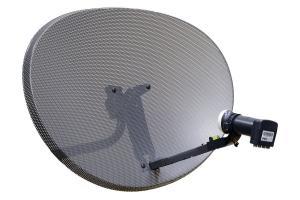 What size dish do I need?
In France, you only require a Zone 2 Sky dish (as shown) to receive a clear signal from the Astra 28.2E Pan-Europe satellite beams, although we usually recommend you use a dish at least 1 metre in diameter for optimum reception quality. Sky TV picture quality in Europe greatly varies depending on the signal strength in your region which may be affected by local terrain.
To be sure of the correct size dish required where you live, please contact your local satellite dish installer for confirmation or contact us and we will recommend a Sky satellite installation service provider in France.
What parts of France can receive Sky TV signals?
We have previously supplied sky digiboxes and sky viewing cards to customers all across France, without any problems receiving all required channels, in the following cities:
Aix-en-Provence
Amiens
Angers
Argenteuil
Asnières-sur-Seine
Aulnay-sous-Bois
Avignon
Besançon
Bordeaux
Boulogne-Billancourt
Brest
Caen
Calais
Clermont-Ferrand
Colombes
Créteil
Dijon
Fort-de-France
Grenoble