All Roku devices are designed to keep their software up to date automatically.
On initial set-up, your Roku device will connect to the remote Roku software servers to ensure it has the latest firmware running at the time of installation.
Also, your Roku device will check every 24-36 hours to see if it's firmware is up-to-date by connecting to the Roku servers via the internet when powered on.
All updates are carried out in the background.
So in most cases, you will not have to do anything to initiate or complete this process.
However, if you wish to manually check if the software is up to date, there are a few simple steps to follow.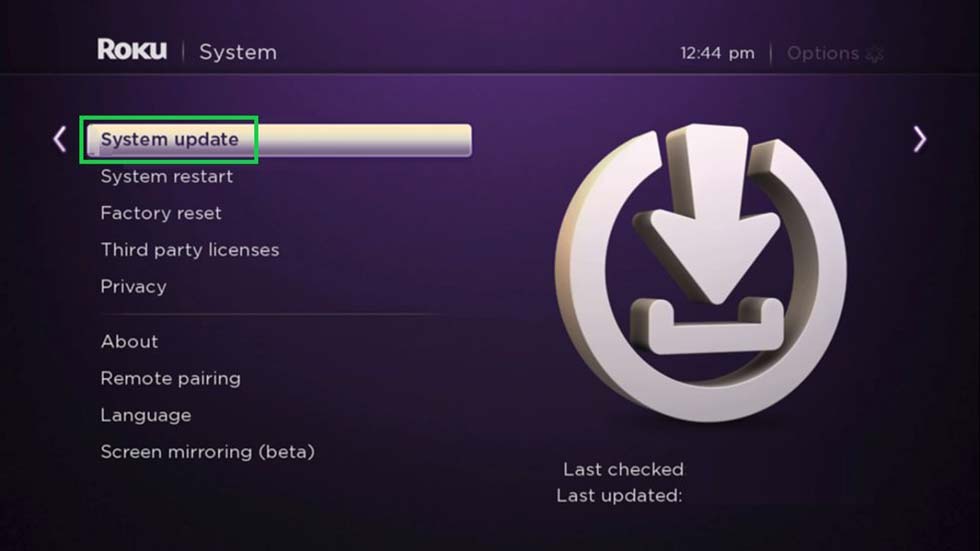 Check Your Roku Device Software Version
Usually, you should not have any reason to check if your Roku device has the latest software installed, as this is carried out automatically by your Roku box.
But there may be the rare occasion when this is necessary, such as:
your Roku device has been disconnected or disused for a prolonged period of time
you recent added a non-certified channel to your Roku device
To manually check your Roku devices software version and to update, carry out the following ensuring your Roku has an internet connection:
Press "Home" on your Roku remote control
Scroll to select the "Settings" option
Then select "System"
Now hit "System Update"

*


At this stage, the screen should display the current software build installed on your Roku device, detailing the date and time of the latest update available.
Finally, hit the "Check Now" option to manually check your Roku's software version.
If an update is found, your Roku will start the update process automatically.
At this stage, leave your Roku to complete the process in the background.
Do not switch off or unplug your Roku from the mains power source until all updates have completed.
There Was An Error During Software Update
To complete the software update, your Roku device require a stable and reliable internet connection.
If your internet is too slow or there are problems with uploads or downloads via your broadband, this may cause interruptions to the software update process.
If an error occurs during the software update process, you will see an onscreen message, similar to the one below: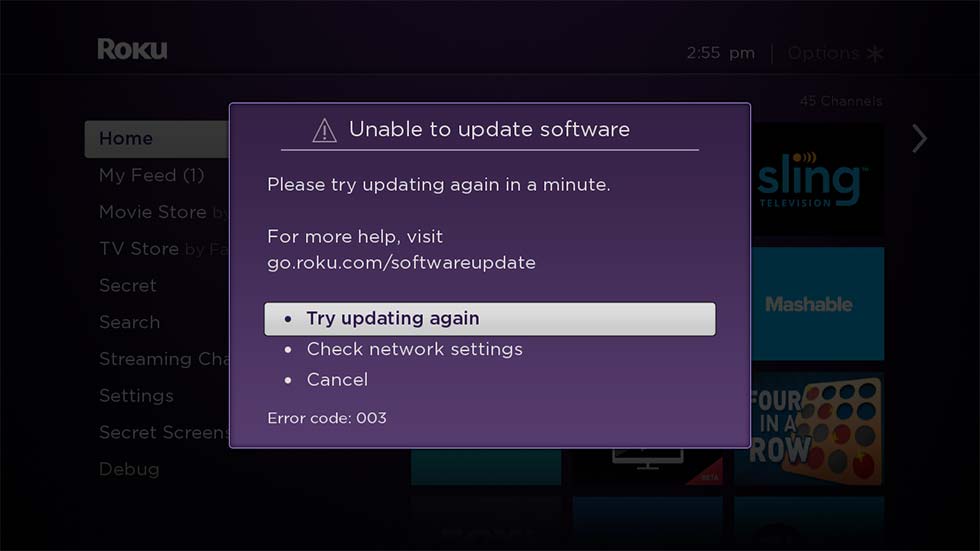 Usually, you will see an error code at the base of the screen.
These codes are usually either: 001, 002, 003 or 005.
How to Successfully Update the Software
If the software update failed, you may find that your Roku device is temporarily unresponsive.
If you saw an on screen error message during the system software update, wait a few moments and try again.
Most likely, there will be two main causes for the failed software update:
1) Roku Server Outage
From time-to-time, the Roku software servers may be experiencing downtime.
Although rare, this does happen occasionally.
To check if the Roku server are operational, go to https://support.roku.com/en-gb/index and see if there is an alert message stating there is an outage.
If not, there cause of the failed download must lie elsewhere.
2) Network Connectivity Issues
The most common cause of failed Roku software updates is due to poor network connectivity or a slow and unreliable internet connection.
Firstly, if using a Wi-Fi internet connection, make sure your Roku device is connected to the correct wireless network.
Secondly, check that your Wi-Fi signals is strong enough and that the Roku device can connect to your wireless network reliably.
Thirdly, check that your internet router is operating correctly and your internet is connected and online.
If you feel all of the above have been checked and verified, then finally try temporarily using a direct ethernet connection from your Roku to your internet router instead.
Ethernet connections are far quicker and more stable than wireless internet.
If for any reason, your Wi-Fi network is experiencing interruptions, a direct ethernet connection will eliminate this concern.
Simply connect one end of the ethernet cable to a spare port on your broadband router and another to the ethernet port on your Roku device (if it has one) and try again.
In most cases, this will resolve the problem and allow you to update your Roku devices system software.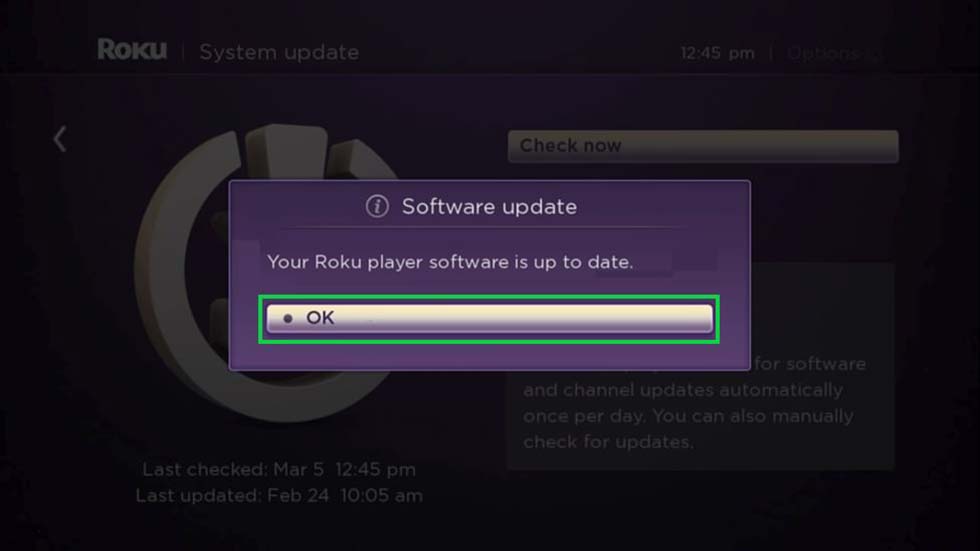 Summary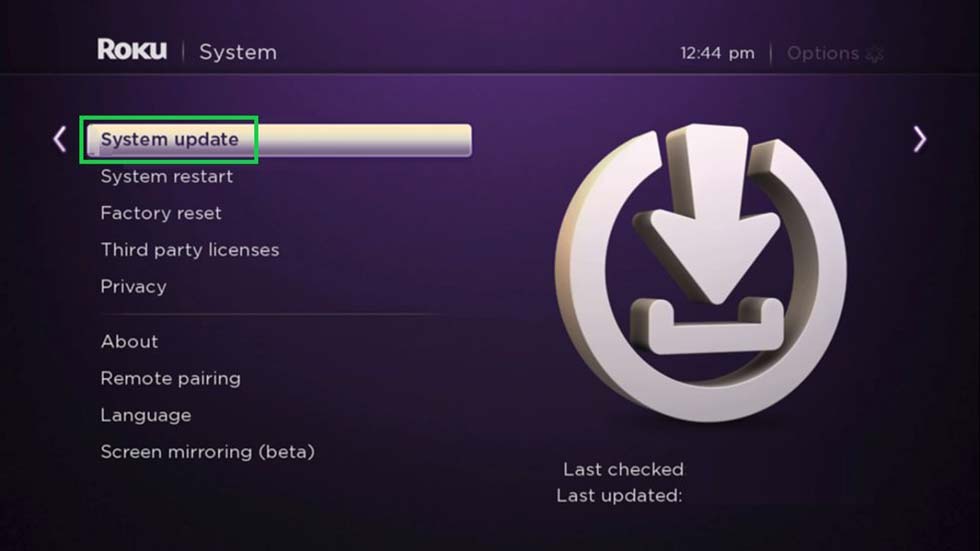 Article Name
How to Update Your Roku Device System Software
Description
Do you need to check or update your Roku devices system software? Read our blog post for a step-by-step guide on troubleshooting and updating Roku software.
Author
Publisher Name
Publisher Logo