If your Sky Q 2TB box seems to suffer from freezing, being constantly stuck on standby or doesn't respond at all – don't worry!
This is a common problem with this set top box and it can be resolved. Phew!
In this troubleshooting guide, we're going to show you how to run various different checks step-by-step, so you can get the bottom of this niggling problem.
Just follow the guide below or skip to the appropriate chapter using the following links:
Check your Sky Q Remote
Press the "?" button on your Sky Q remote and ensure the remote light flashes. If the remote light does not flash, your Sky Q remote may be faulty or need replacement batteries.
If the LED on your remote does flash, press the "Home" button. If the standby light on your Sky Q box stays red or amber after pressing, or continues to be unresponsive, press the "Standby" button on the front panel of the Sky Q set-top box.
If your Sky Q box illuminates a green light, then your Sky Q remote isn't paired with the Sky Q box. Try restarting your Sky Q box as outlined below.
If however, your Sky Q box remains unresponsive showing a red or amber light, check for ventilation issues as it may be overheating.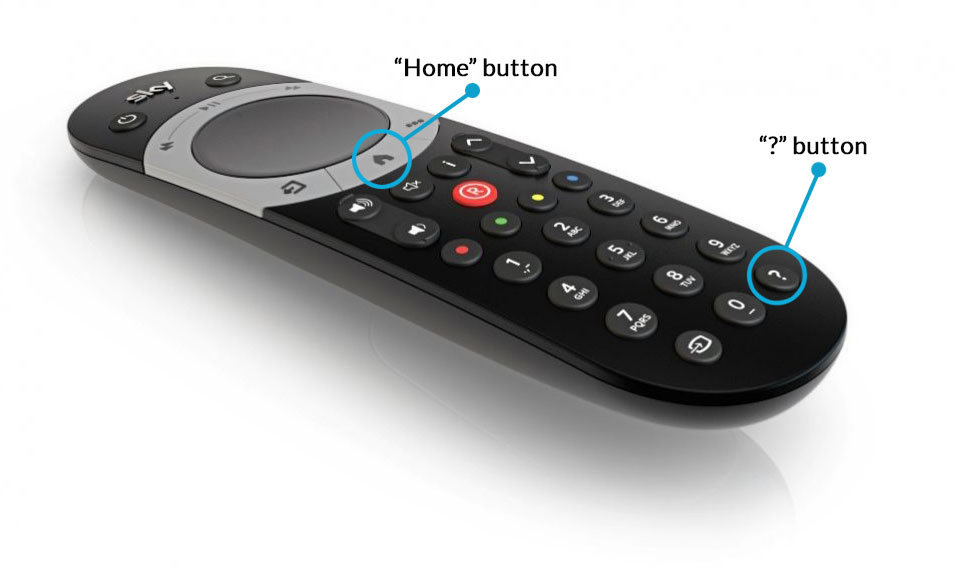 Check for Sufficient Ventilation
To avoid overheating you need to ensure your Sky Q box is sufficiently ventilated by checking he following:
a) Do not place the Sky Q box permanently on carpet or a small enclosed space. Ensure the box has at least 10cm of space around all sides of the box vents to allow air to flow.
b) Do not stack other devices on top, underneath or close to your Sky Q box, especially those that produce heat.
c) Keep your Sky Q box away from sources of heat such as radiators, direct sunlight and other electronic devices that emit heat.

Restart your Sky Q box
Firstly, unplug your Sky Q box from at the mains power source. Now, check that the power cable is securely connected at both ends of the box and the mains power source. Once done, switch the Sky Q box back on at the mains. Your box should now start the boot up process.
Now, wait for the onscreen instruction message to disappear and then press "Home" button on your Sky Q remote control.
Your Sky Q box should have now completed the boot process and be ready for ruse. If not, try using the Recovery Process.
Sky Q Recovery Process
Firstly, unplug your Sky Q box from at the mains power source.
Now, hold down the "Standby" button on the Sky Q box, then power it back up at the mains. Make sure you keep the "Standby" button pressed down until you see alternating red and amber lights flashing on the front of the set-top box. This will initiate an automatic software update.
If however, the lights do not display after 30 seconds of holding the "Standby" button, repeat steps 1 to 3 again to see if it works. If you are still unsuccessful, there could be a fault with your Sky Q box.
The software update usually takes around 15 minutes to complete. Once complete, you'll be asked to press the "Home" button on your Sky Q remote to finish.
If however you are still experiencing problems, please get in touch with us.