Some set top Roku devices include a USB port, which allows you to connect third party USB drives and memory sticks to playback locally stored video files, view photos and listen to audio.
However from time-to-time, your Roku device may not recognise the USB drive meaning you cannot see any of the files that you have stored on it.
Read on to discover how to rectify this problem, so your USB drive is always recognisable by your Roku and all files are accessible.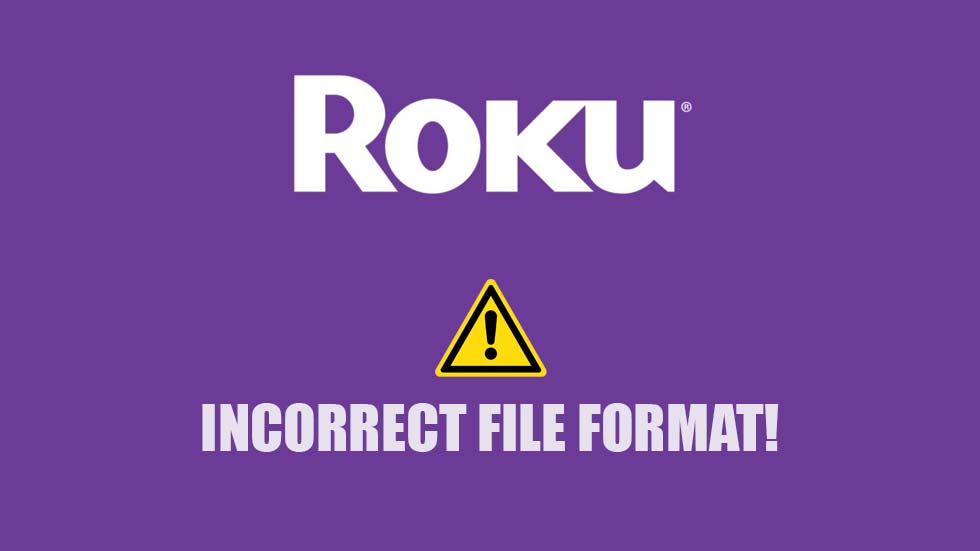 Incorrectly Formatted USB Drive
The most common reason for a Roku device not recognising an external USB device is because it has been formatted to a file system that Roku does not recognise or support.
Roku players support USB drives that are formatted using the following file systems:
FAT16
FAT32
NTFS
EXT2
EXT3
HFS+
A large number of newer USB drives come pre-formatted in the exFAT file system which is not supported by Roku.
To check which file system is in use by your USB drive, insert the USB drive into a spare USB port on a computer.
If using a PC, wait until you can see the drive icon on the desktop and then right-click using your mouse and then select Properties from the drop down menu shown.
The subsequent properties window will tell you what file format the drive has been set to.
If using a Mac, wait until you can see the drive icon on the desktop.
Then if using a single button mouse, highlight the icon and go the File > Get Info
If using a two button mouse, right-click and then select Get Info from the dropdown menu shown.
The subsequent window that pops up will then list the volume's properties, where you can see the devices file format detailed.
If the USB drive is using a file format that is not supported by your Roku, you will need to reformat it.
Make sure that you back up a copy of the contents saved on the USB drive elsewhere before formatting, as this will wipe the drive completely.
USB Drive Has Insufficient Power
There are various different types of USB drives on the market, many of which require different levels of power to operate.
If your USB drive is correctly formatted, it could be highly probable that the drive simply has insufficient power to operate fully.
Some USB drives require power via an adapter connected to the mains, so ensure that your drive has sufficient power to operate.
You will see the on screen message below if your USB drive does not have enough power to operate: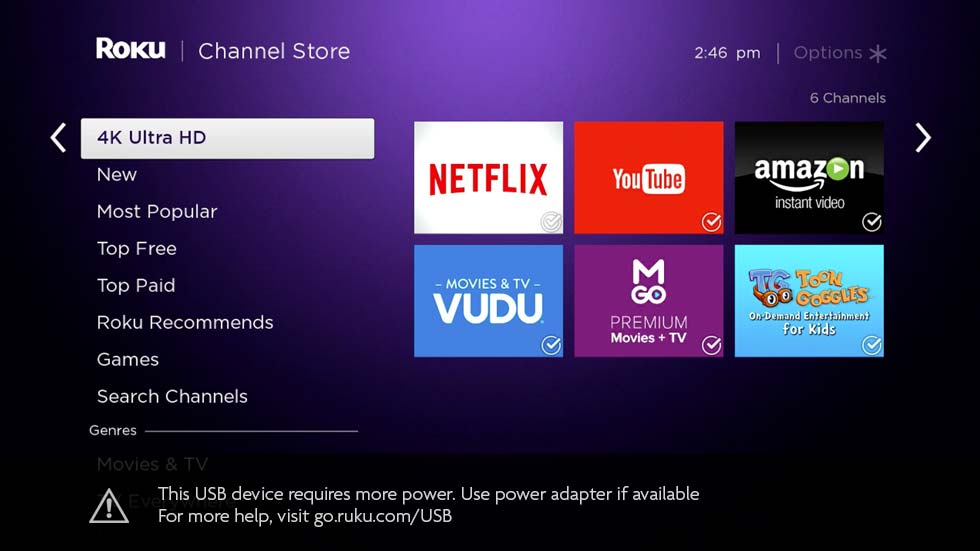 If you do see this message, make sure your USB device is connected to a power source.
If your USB drive does not have an external power supply, you will need to use an alternative USB device.
Connecting a USB Drive via a Powered USB Hub
Certain USB hubs have a specific order of operation to work correctly.
If you find the USB drive still isn't recognised even after following the manufacturers instruction, carry out the following:
Connect your USB hub to a USB port on the Roku device
Switch on to the USB hub with power connected
Connect the USB drive to the hub
Alternatively, try the same process in a different order:
Connect your USB drive to the USB hub
Switch the power on to the USB hub
Wait approximately 10-15 seconds
Then connect the USB hub to the USB port on the Roku device
Connecting a USB Drive via a Non-Powered USB Hub
If your USB hub does not have its own power source, then try the following:
Remove the hub and connect the USB drive directly to the Roku device
Reduce the number of devices connected to your USB hub
Replace the non-powered USB hub with a powered style USB hub instead
Technical Info
USB 3.0 drives will work in USB 2.0 mode on Roku players.
If using Ext2 or Ext3 Linux filesystems, files must be created with permissions set for all to read.
Roku 3 and Roku 2 XS devices supply 650mA of power via their USB ports. Check the technical specifications of your USB device to ensure this is enough to power it.
Summary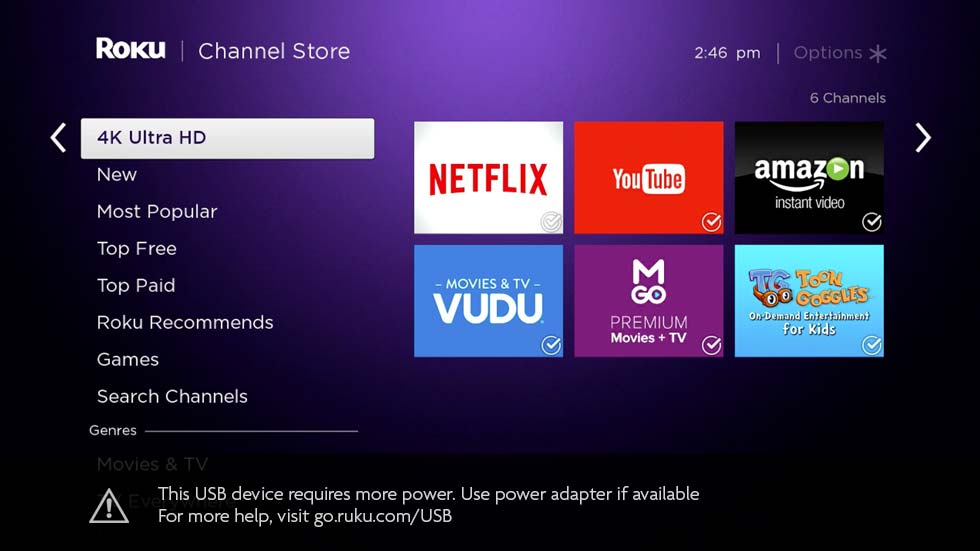 Article Name
Why Can't My Roku Device Detect My External USB Drive?
Description
Are you connecting an external USB device to your Roku but it is not being recognised? Read our blog post to find out how to rectify this common issue.
Author
Publisher Name
Publisher Logo