Not to be missed seasonal specials
Most of the TV channels on both terrestrial and satellite providers have announced their Christmas TV line ups and there's some great entertainment coming up for all the family. Let's dive in and find out what's the pick of the bunch on each of the major networks.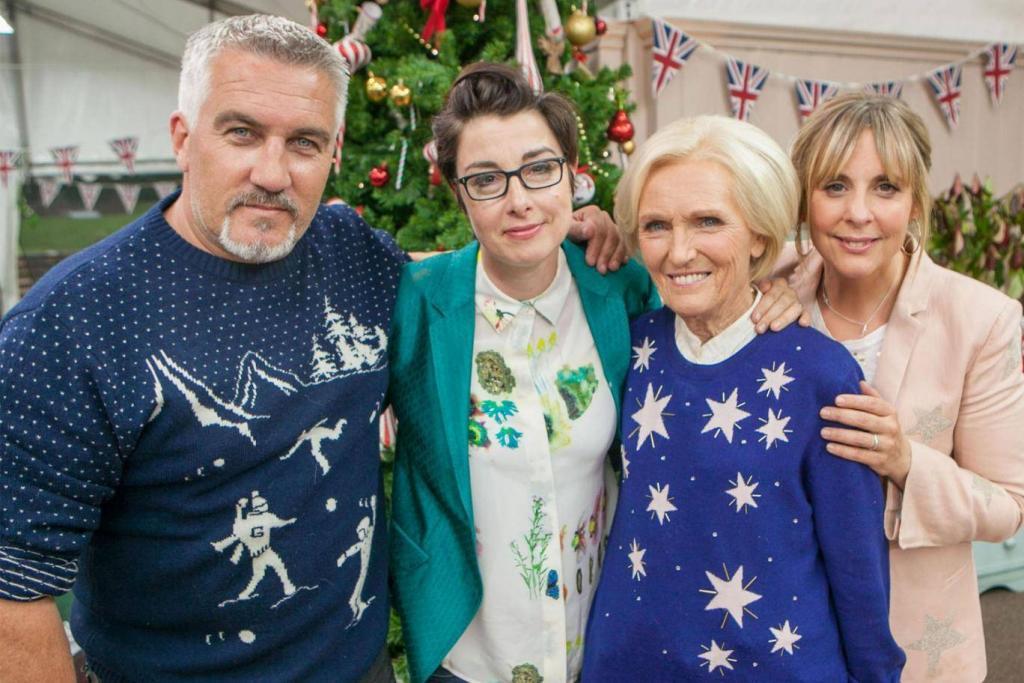 BBC
Fan favourite 'The Great British Bake Off' bids farewell to both the BBC and mainstays Mary Berry and presenters Sue Perkins and Mel Giedroyc, before the show along with Paul Hollywood defects off to Channel 4 from next year.
Not wanting to go out with a soggy bottom, the BBC have announced that a two-part Christmas Special will draw the show to a fitting close with an all-star reunion with former Bake Off contestants returning to the tent. At the time of writing, the contestants have yet to be confirmed however there's strong rumours that Howard Middleton from Series 4 and Cathryn Dresser from Series 3 may be making a reappearance. We'll see.
'Last Tango in Halifax' also gets a two-part festive special, where leading character Caroline moves to Huddersfield.
The drama series set in Yorkshire, sees Caroline coming to terms with yet more changes in her life, with a move to a new home in Huddersfield not going down at all that well with Celia and Alan.
Popular comedy series 'Mrs Brown's Boys' gets it usual Christmas episode, as does fan favourite 'Outnumbered', which returns with the Brockman children all grown up.
Christmas wouldn't be Christmas without David Jason in some form or another, who returns in the first of a new series of Still Open All Hours, with other mainstays over the holidays including Eastenders, Sherlock, Doctor Who, Call the Midwife and Strictly Come Dancing all getting their own Christmas specials.
Finally, Roald Dahl's novel 'Revolting Rhymes' will be brought to the small screen by a cast including Tamsin Greig, Dominic West and Rob Brydon.
ITV
Ian McKellen and Derek Jacobi get reunited one last time, as they return in a swan-song one-off Christmas special of ITV's 'Vicious'. Fans will be pleased to revisit the show, where Freddie and Stuart are joined by their best friend Violet, plus appearances from Frances Barber and Dame Eileen Atkins, in an extended hour long special, which follows their adventures from Spring and Summer, through to Autumn and Winter.
James Norton and Robson Green return for a feature-length episode of Grantchester, as the crime-fighting duo solve their usual mystery, whilst romance is on the cards for Sidney Chambers, played by Norton who falls for a married, pregnant woman!
For the first time in 18 years, Pauline Quirke, Linda Robson, and Lesley Joseph get back together for a long-awaited festive special of Birds of a Feather. The hour-long episode, sees the ladies in Morocco searching for Tracey's son Travis, who's gone missing whilst on a gap year. Martin Kemp also makes a special appearance as vile gangster Vince.
Whatever ITV offers up this year however, it simply won't be the same without a 'Downton Abbey' Christmas special. Has it really been a year already since we bid farewell to Highclere Castle?
Sky
Based on the first of Jasper Fforde's series of novels, 'The Last Dragonslayer' gets brilliantly brought to the small screen on Sky 1, with indentured orphan Jennifer Strange played by Ellise Chappell, who discovers her destiny as the last of the Dragonslayers achat viagra en tunisie.
Ben Stiller returns as popular character Derek Zoolander along with fellow catwalk dimwit Hansel (Owen Wilson) in 'Zoolander 2' on Sky Cinema from Friday, December 16. The bazaar murder of Justin Bieber brings them out of retirement and into the dangerous-world of espionage in this silly caper that firmly puts the glitterati firmly in their place. A must watch.
Romantic comedy 'How To Be Single' hits Sky Cinema on Friday, December 23, as young Alice (Dakota Johnson) after four years of college, decides she needs a break from her long-term boyfriend. Eager and ready for new challenges, the grad moves to New York with the help of Robin (Rebel Wilson), who shows her how to enjoy the single lifestyle by partying hard, getting free drinks and meeting men.
Rudyard Kipling's tropical tale 'The Jungle Book' is bravely reworked in an eye-catching remake, blended with live action and digital wizardry. As with the classic, Mowgli is an orphaned man-cub who must leave the wolf pack who raised him when the man-hating tiger Shere Khan comes looking for his blood. See what you think of this redefined reboot on Christmas Day on Sky Cinema.
Ryan Reynolds plays Wade Wilson in this whacky action comic adaption of Marvel's 'Deadpool', Wilson undergoes what he thinks is life-saving surgery however, the procedure doesn't go according to plan and Wade is left hideously disfigured and embarks on a violent course of revenge. What can only be described as an ironic black comedy that makes fun of the very genre it belongs to, this is one of those movies you have to see due to its mixed reviews and divisive style. Set your diary for Boxing Day on Sky Cinema for this one.
And finally, for the kids, ever popular chunky martial arts hero Po makes his third outing in 'Kung Fu Panda 3', this time as the teacher when he is reunited with his long-lost biological father. The duo get reacquainted just as the immortal villain Kai launches a vengeful campaign to conquer China's kung fu masters and take over the mortal realm. This one should keep the kids entertained for a while on Tuesday, December 27 on Sky Cinema.