Watch TV in Ultra HD through your Sky set top box
If you want to watch Sky television in the best resolution possible, then you need to get a Sky Q 2TB set-top box along with an Ultra HD compatible or 4K ready television, running in 8-bit or 10-bit colour. However, to ensure your pictures are displaying at the highest possible resolution, you will need to ensure your viewing settings are set up correctly on your Sky Q box.
To do this, following instructions below to get started.
Configuring Ultra HD pictures
Firstly make sure that your Sky Q 2TB set-top box is connected to your ultra HD compatible television via the HDMI ports on the back of the set top box and your television. Switch both your TV and your Sky Q box on.
Now with your television switched on, select the correct HDMI input that your Sky Q box is connected to using your television remote. Then, with your Sky Q box powered up, press the "Home" button on your Sky Q remote and scroll down to "Settings". Once in the "Settings" menu, scroll down and select "Setup", then finally "Audio visual".
From the options shown, slide across to "Picture resolution" and then ensure that the "2160p UHD" option is highlighted and selected. If your TV supports that resolution, you should see a confirmation screen as shown below: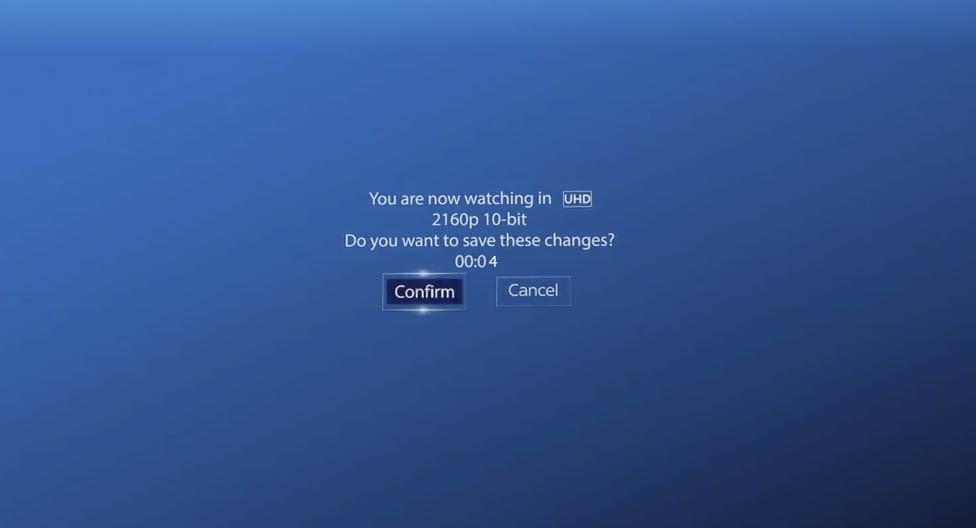 If you see the above, highlight and select "Confirm". Once you have confirmed set-up, you will be able to watch all ultra HD transmitted television shows.
Changes Did Not Work?
If however you did not see the above screen, it is highly likely that your television does not support Ultra HD or HDCP 2.2. If this occurs, try connecting your Sky Q box to an alternative HDMI port on the back of your TV and change the input source to see if that resolves the problem. Also ensure you are using the correctly supplied HDMI cable that came with your Sky Q 2TB box.
Also, if your Sky Q box is connected via an external device such as a sound-bar or home cinema system, you may find they are not compatible with HDCP 2.2 and you will need to connect your Sky Q box directly to you TV and then use an optical cable to connect your TV to your sound-bar or home cinema system.
See It In Action
Still not sure how to watch ultra HD pictures using your Sky Q 2TB set-top box? Then watch the video below for step-by-step help.